Vuk Ćosić - Context collapse 2.0
November 20, 2015, 20:00
Multimedia Institute (net.culture club mama)
18 Preradovićeva, Zagreb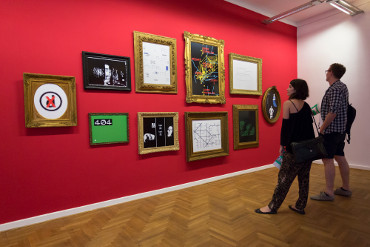 A) Why do we still talk about net.art?
Personal view of the father, seasoned with anecdotes and vague allusions that lead the audience down a dangerous path. Attendance mandatory.
B) Early Internet art in the narrative arch of progressive artistic practice from Dada to Situationists towards the future
A private look at what used to be the carrier of the freedom bug at a time when there was no freedom and no free infrastructure.
C) Context collapse 2.0
Public contemplation of the change in the aggregate state of the Internet as the space of freedom towards the space of surveillance and possible artistic tactics.
Vuk Ćosić is an Internet veteran and an internationally acclaimed classic of Internet art. He co-founded the Digital Medialab in Ljubljana (Ljudila), Nettime and Case Sensitive (a consultancy firm). As an Internet art pioneer, he exhibited at the Venice Biennale; ICA, London; Beaubourg in Parizu; ICC, Tokyo; Kunsthalle, Vienna; Digitalni Artlab, Tel Aviv; ZKM, Karlsruhe; Ars Electronica, Linz; postmasters, NYC; Friedricanum, Kassel etc. He held lectures at the Beaubourg in Paris, Venice Guggenheim, Thing in New York, at festivals, art schools and universities. Apart from having authored many net.art projects, Ćosić is also known as a web strategist who has lead crucial projects in the Slovenian online domain, including the government, corporations, civil organizations and culture. He lives in Ljubljana.
The lecture is organized within the net.cube project of the Centre for Drama Art, in collaboration with the WHW collective.